The technology-laden Nasdaq Composite surged more than 10% last month after a down year in 2022, with history showing the stock-market index tends to perform well in the next 12 months after such a scenario — except in 2001, Bespoke Investment Group warned. 
The Nasdaq just wrapped up its best January performance since 2001 with a gain of 10.7%, according to Dow Jones Market Data. That's after plunging 33.1% in 2022, including an 8.7% drop in December, FactSet data show. 
"After closing out an already bad year on a down note, the Nasdaq stormed into 2023 [by] rallying 10.7% in January," Bespoke said in a report emailed Wednesday. "Since the Nasdaq's inception in 1971, there have been 33 prior months where it rallied at least 10%."
But the number of occurrences drops to just 16 when narrowed to rallies of that magnitude following a 12-month stretch in which the index was down, according to Bespoke. In such cases, the firm found, the Nasdaq's performance then tends to be positive over the next year, except in 2001, "when there were four different [monthly gains of 10% or more] and the Nasdaq was lower one year later after all four of them."
For example, the chart below shows the Nasdaq jumped 12.2% in January 2001, after plummeting 39.3% over the prior 12 months. The index tumbled 30.2% over the next year.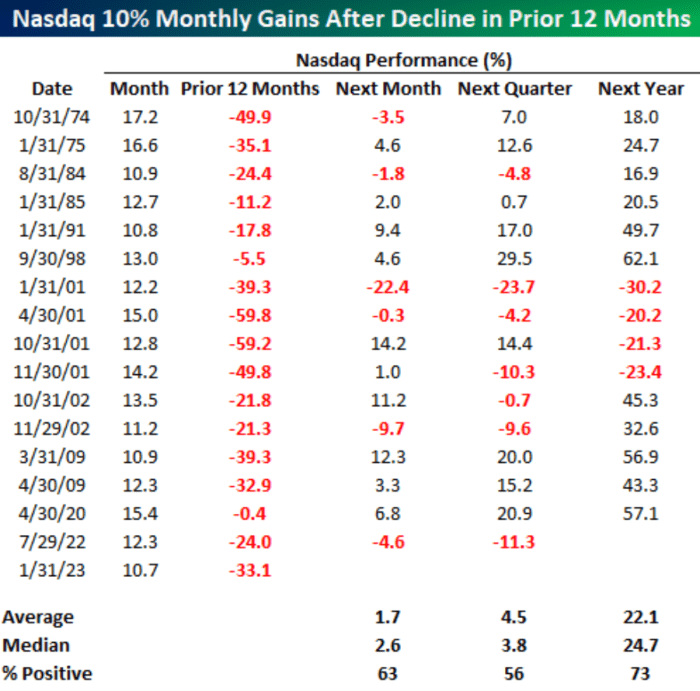 "With the current period frequently drawing comparisons to the bursting of the dot-com bubble from 2000 to 2002, it's not particularly comforting to see that there were multiple [10%-plus] monthly gains in 2001, and they were all followed by eventual declines," Bespoke said. 
The U.S. stock market sank last year as the Federal Reserve rapidly raised its benchmark interest rate in an effort to curb inflation. Technology and growth stocks were particularly hard-hit.
Read: 'Joy of missing out': Here's the silver lining after 2022's stock-market 'nightmare,' says GMO's Ben Inker
Fed chief Jerome Powell was scheduled to host a press conference Wednesday afternoon at 2:30 p.m. Eastern time, after the U.S. central bank concludes its two-day policy meeting. The market is expecting the Fed will announce that it's raising its benchmark rate by a quarter of a percentage point to a range of 4.5% to 4.75%, potentially slowing its pace of rate hikes amid signs of easing inflation. The Fed's statement on its decision is due out at 2 p.m. Eastern time.
The Nasdaq is "still only 1% higher than where it was at the end of November, but the strong start to the year has a lot of bulls newly emboldened," Bespoke wrote in the report, emailed ahead of the market's open Wednesday. "There's also more than a small minority of investors saying they won't get fooled again."
The U.S. stock market opened lower Wednesday. The Dow Jones Industrial Average
DJIA,
-0.38%
was down 0.9% around midday, while the S&P 500
SPX,
-1.04%
fell 0.5% and the Nasdaq
COMP,
-1.59%
shed 0.3%, according to FactSet data, at last check. 
Read: QQQ is bleeding assets, but are ETF investors 'finally bailing' on growth stocks just as tech stocks jump in 2023?