Welcome to TBT's Smart Money podcast, where we answer your real-world money questions.
This episode we discuss the recent Supreme Court hearings about the Biden administration's student debt cancellation plan.
Check out this episode on any of these platforms:
See the full picture of your debt
Track your loans, card balances, and more — all together on one screen.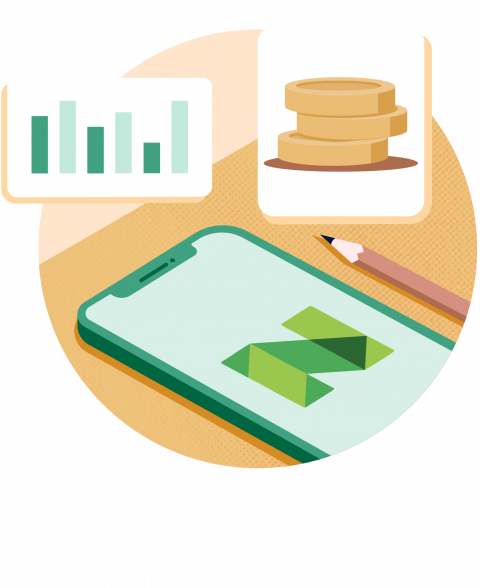 Our take
This week, the Supreme Court heard oral arguments in two cases challenging the Biden administration's student debt cancellation plan. But a decision won't be handed down for months.
The first case, Biden v. Nebraska, was filed jointly by six Republican-led states: Arkansas, Iowa, Kansas, Missouri, Nebraska and South Carolina. It claims that the debt cancellation would harm state tax revenue and the finances of a state-based student loan servicer. The second case, Department of Education v. Brown, was filed in Texas by the Job Creators Network Foundation Legal Action Fund on behalf of two individual borrowers. It claims that Biden's relief plan violates a federal procedural statute that allows for a public comment period on any proposed rule. Both cases question whether Biden has the authority to cancel debt under the 2003 HEROES Act.
Questions from the justices returned to two main themes: standing and merit. Standing refers to whether those who filed the cases have the right to do so. And merit considers whether the Biden administration had the legal merit under the HEROES Act to order debt cancellation and cancel up to $20,000 in federal student loan debt for eligible borrowers.
If the cases don't have standing, then the Biden administration's debt cancellation plan would proceed. But if they do have standing, then the question of whether the administration has the authority to cancel the debt becomes the central focus of the justices' deliberations. Either way, an announcement is not expected until the end of the Supreme Court's term, which will be around late June. Until then, the question about debt cancellation remains in limbo.
More about student debt on TBT:
Episode transcript
Sean Pyles: The Supreme Court just heard arguments in a student debt cancellation case. It's the last visible step before the court hands down its decision. If you're a borrower like me who is eligible for relief, you're probably also running out of patience.
Anna Helhoski: No one could blame you for that, Sean. There's a lot of "will they, won't they" drama leading up to the cancellation announcement in the first place, and it seemed like it really was going to happen there for a while, but now borrowers are left hanging in limbo.
Sean Pyles: Yeah, things aren't looking great for those who want debt relief, but the fight is, technically, not over yet.
Anna Helhoski: That's right. The fight is not over. So let's dig into it.
Sean Pyles: Welcome to the TBT Smart Money podcast, where you send us your money questions and we answer them with the help of our genius Nerds. I'm Sean Pyles.
Anna Helhoski: And I'm Anna Helhoski. Don't forget to send us your money questions by calling or texting us on the Nerd hotline at 901-730-6373. That's 901-730-NERD. Or you can email us at [email protected]
As promised, today we return to the latest in the Supreme Court case to decide whether or not 40 million eligible federal student loan borrowers, including Sean, will see their debt canceled.
Sean Pyles: Anna and I dove into this topic a few weeks ago, and we wanted to give a bit of an update. So, Anna, in simplest terms, what are these two cases about?
Anna Helhoski: Sure. So the first case, Biden v. Nebraska, was jointly filed in Missouri by six Republican-led states. It argues that Biden's debt relief would harm tax revenue in those states in addition to the finances of a student loan servicer in Missouri. The second case, Department of Education v. Brown, was filed in Texas by the Job Creators Network Foundation Legal Action Fund on behalf of two individuals.
Sean Pyles: That's a mouthful.
Anna Helhoski: Yeah, I'd say so. The suit argues that the relief violates a federal act that would allow for public comment on any proposed rule. Both question executive authority to cancel debt at all.
Sean Pyles: Then, on Feb. 28, the Supreme Court heard oral arguments for both of those cases, but they're not expected to hand down a decision until the end of the term, sometime in June. Anna, you were listening to the oral arguments. Can you tell us what happened?
Anna Helhoski: The arguments both ran pretty long, which means that the justices had a lot of questions for the plaintiffs and for the Biden administration. In both cases, Supreme Court justices on either side of the political spectrum honed in on two key areas: standing and merit.
Sean Pyles: I'm pressing my invisible legalese alert button over here. So for those who are not steeped in this stuff, can you please explain what standing and merit mean?
Anna Helhoski: Sure. Standing is the right to bring a lawsuit to court, while merit is the legal merit of the case. In both of these situations, the question is, does the Biden administration have the legal ability under the 2003 Higher Education Relief Opportunities for Students, or HEROES, Act to cancel student debt?
Sean Pyles: So on the question of standing, what were the main concerns?
Anna Helhoski: When it came to standing in Biden v. Nebraska, liberal justices hounded Nebraska Solicitor General James Campbell, who represented the group of Republican-led states, about why they were the ones bringing this to court. Why wasn't the student loan servicer, known as Mohela, in the room since the states allege it would suffer the primary injury by debt cancellation? Campbell responded that the state's financial interests were directly impacted by cancellation. But Justice Elena Kagan said, quote, "Usually, we don't allow one person to step into another's shoes." While Justice Amy Coney Barrett asked why the state of Missouri didn't, quote, "strong-arm," unquote, the servicer into suing on their own. Campbell evaded the question and said it was a, quote, "question of state politics."
Sean Pyles: Hmm. OK, and what about standing on the second case?
Anna Helhoski: In the second case, Department of Education v. Brown, standing will rest on whether there is procedural injury. The plaintiff, J. Michael Connolly, argues that the two individuals represented in the case did not have the opportunity to participate in what's known as a notice and comment period for the proposed program. But the logic of the suit was called into question by the Biden camp and multiple justices. U.S. Solicitor General Elizabeth Prelogar pointed out that there is no requirement under the HEROES Act for what is known as notice-and-comment period, which allows individuals with stake in the game to comment about a proposed rule. This, of course, led to a discussion as to the legal merits of the HEROES Act, which I'll get into later. Justice Sonia Sotomayor said that if the plaintiffs win, they would get nothing. She used the phrase illogical to describe the intent, which is that both plaintiffs want either more money or some money, but if their case is successful, they get nothing.
Sean Pyles: Yeah. Basically, the two individuals represented in the second case are upset because they didn't get a comment on this debt cancellation plan, or they weren't eligible for the full $20,000 of cancellation, so they want the entire thing struck down.
Anna Helhoski: Exactly. Connolly said he was confident that when debt cancellation is struck down that the Education Department will go back to the drawing board and look to bring a new relief program through the Higher Education Act, which would then require that notice-and-comment period. This, of course, appeared to be speculation.
Sean Pyles: Yeah. Well, now let's turn to the merits. What were the concerns there?
Anna Helhoski: When it came to legal merits, the justices were questioning the interpretation of the 2003 HEROES Act, which gives the secretary of education the right to, quote, "waive or modify" aspects of the student loan program, including payments, in the event of a national emergency. That phrase, waive and modify, was certainly up for debate. Conservative judges were skeptical that waive or modify also meant cancellation.
Chief Justice John Roberts in particular seemed incredulous that the HEROES Act would allow for more than $400 billion in debt to be erased, but liberal justices found the language less opaque. Justice Kagan said that the language in the HEROES Act was clear, as in it authorizes executive power to do what it needs to do to ensure borrowers are not worse off by a national emergency. So executive overreach was top of mind for some of the justices. Several asked if Biden's plan would violate the major questions doctrine, which says an agency must have clear congressional authorization if it's acting on an issue that is also of vast economic or political significance. This was a sticking point for Chief Justice Roberts. Prelogar said if the court wants to respect the role of Congress in the process, then reading the text of the HEROES Act as plain language should meet that goal.
Sean Pyles: Because Congress passed the HEROES Act to begin with.
Anna Helhoski: That's right. So Congress already gave their approval back in 2003 for the secretary of education to make decisions during future wars or national emergencies, whatever those emergencies might be, like a pandemic.
Sean Pyles: Well, Anna, during the hearings, the word fairness also came up quite a bit. Can you lay out what the concerns were on either side?
Anna Helhoski: Right. So conservative justices were stuck on the question of fairness. Justice Samuel Alito seemed to allude to the education secretary having other motives behind canceling student debt and pressed Solicitor General Prelogar to explain why the actions were fair. He kept asking, "Why is it fair?", and adding an aside that maybe Prelogar didn't want to explain. She argued that cancellation was fair because the HEROES Act specifically designated the secretary of education to provide relief to student loan borrowers in an emergency situation, like we've said. He doesn't have to do this, of course, but the point is that he can do it. She said the secretary clearly laid out the potential negative consequences for borrowers who re-enter student loan payments, namely mass delinquency and default.
Sean Pyles: Yeah. But just to be clear, the fairness question was not one raised by either of the cases. This was just a sticking point for the more conservative justices.
Anna Helhoski: Yes. So Chief Justice Roberts also questioned Prelogar about fairness, using an analogy of someone who can't get their debt canceled. Someone who takes a small-business loan to start a lawn service, I think is what he said, because he can't afford college. He said there's no evidence the secretary of education took the people who can't benefit from student loan debt cancellation into consideration.
Sean Pyles: This particular fairness argument sounds really familiar. We saw it a lot on Twitter, I feel, in particular in the early days after the debt cancellation plan was announced. It's the, "If I can't get it, then no one can," perspective that someone who already paid off their student loans had.
Anna Helhoski: And the response from liberal justices was that few benefits programs were inherently fair due to limited resources. And in this case, the fact that this provision of the HEROES Act was specifically designed to help student loan borrowers and only student loan borrowers in the event of a national emergency.
Justice Ketanji Brown Jackson specifically pointed to the infusions of cash given to small businesses and organizations due to the pandemic, which were authorized by Congress. She questioned whether it would be, quote, "unfair to people who didn't own a company or somebody who didn't have, you know, a nonprofit and wasn't getting that money."
Anna Helhoski: The bottom line is this, given the way the arguments went, if the court doesn't find that those who brought the cases have standing to sue, they're likely to throw out the cases, and Biden's debt relief plan would be free to move forward. But if the court does decide the cases have standing and legal merit, then debt cancellation is likely to be struck down.
Sean Pyles: Mm-hmm. So what happens now for borrowers? Can we do anything while we wait?
Anna Helhoski: There's not much borrowers can do right now, like you said. We're waiting and watching to see what happens next. But in the meantime, most federal student loan borrowers haven't had to make a payment since March 2020 due to the pandemic. The pause is expected to expire this summer.
Sean Pyles: Yeah, well, we haven't had to make any payments on our student loans, federal student loans, that is, in a long time. It seems likely that a lot of people's financial circumstances or living situations could have changed drastically in that amount of time.
Anna Helhoski: Definitely, Sean. It's why we're recommending a few steps while they do wait. Reach out to your student loan servicer to update your contact information. Find out what you owe and exactly how much your payments will be. If you're not sure who your student loan servicer is — because a lot of those have also changed in the last three years — you can find out by logging in to your studentaid.gov account. Once you do know how much you owe, take a look at your budget and see how you can fit your payment into it. And if you're worried about meeting your monthly payments, talk to your servicer about alternate repayment options like enrolling in an income-driven repayment plan.
Sean Pyles: All right. Well, Anna, thank you for giving us the rundown.
Anna Helhoski: Yeah, you got it.
Sean Pyles: This episode was produced by myself and Anna Helhoski, with help from Tess Vigeland. I mixed our audio. And a big thank-you to the folks on the TBT copy desk for all of their help.
Anna Helhoski: Here's our brief disclaimer. We are not financial or investment advisors. This nerdy info is provided for general educational and entertainment purposes and may not apply to your specific circumstances.
Sean Pyles: And with that said, until next time, turn to the Nerds.