ASEAN Beat

 | 

Economy

 | 

Southeast Asia

The move followed Brussels' passage of a law that could severely restrict palm oil imports to the European bloc.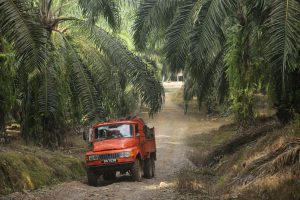 A truck transporting harvested oil palms, Sabah, Malaysia.
Credit: Greg Girard/CIFOR
A senior Malaysian official has announced that the country could stop exporting palm oil to the European Union in response to the passage of a new EU law that could strictly regulate its sale.
Speaking on the sidelines of a seminar yesterday, Commodities Minister Fadillah Yusof told reporters that Malaysia and Indonesia, the world's two largest palm oil producers, would discuss the implications of the regulation, which requires companies to prove that their supply chains are not contributing to deforestation.
"If we need to engage experts from overseas to counter whatever move by EU, we have to do it," Fadillah said, Reuters reported. "Or the option could be we just stop exports to Europe, just focus on other countries if they (the EU) are giving us all a difficult time to export to them."
In recent years, the EU has taken steps to leverage its market power to ensure that products entering the bloc are more environmentally sustainable. The regulation, passed in December, will "ensure that a set of key goods placed on the EU market will no longer contribute to deforestation and forest degradation in the EU and elsewhere in the world," the European Commission said in a statement following its passage. In addition to palm oil, the law will also apply to cattle, soy, coffee, cocoa, timber, and rubber, as well as various products derived therefrom.
This has naturally created friction with leading producers of palm oil, which has been linked to a long list of labor rights abuses in addition to "widespread rainforest destruction and wildlife loss." Malaysia and Indonesia have been so concerned about the new EU rules that they joined forces to lobby against the proposed regulatory changes.
"The Deforestation-Free Products Regulation is a deliberate act by Europe to block market access, hurt small farmers and protect a domestic oilseeds market that is inefficient and cannot compete with the cost of palm oil," Fadillah said in a statement last month, after its passage.
Some outside analysts agree that the restrictions are motivated by protectionism as much as by environmental concerns. At the very least, the national governments and European oil crop growers and their lobby groups have played an important role in the EU's anti-palm oil push.
This is not the only EU policy that has angered Kuala Lumpur and Jakarta. In late 2019, Indonesia filed a complaint with the World Trade Organization over the EU's 2018 Renewable Energy Directive II, which states that biofuel produced from palm oil will not count as a green fuel and will therefore be phased out under the bloc's new renewable energy targets. Malaysia followed suit in 2021.
As the EU's various regulations enter into force, the palm oil issue has begun to affect the trajectory of relations between Brussels and the Association of Southeast Asian Nations (ASEAN). In particular, it has stalled the negotiations for a free trade agreement between the EU and Malaysia and Indonesia.
The disagreement thus increasingly lays bare the tension between the EU's laudable values-based approach to trade and its determination to increase its "strategic engagement" with ASEAN. Yesterday's warning from the Malaysian commodities minister also suggests that there are limits to the leverage created by the EU's large market, especially in a world of growing Asian powers like India and China. Either way, as Naila Maier-Knapp wrote for The Diplomat in 2020, "the palm oil conundrum points to difficult times ahead for EU-ASEAN diplomacy."